Wednesday, December 30, 2020 / by TeamWork Realty
~Written by Terry Peterson, Edited by Devan Kociuruba
To cut to the chase of this article, the summary is –
Do not price a home to sell it fully furnished. Negotiate all personal property outside of the actual real estate contract, even if you're selling all your furnishings to the buyer of your home. Price your home to sell unfurnished, then provide a manifest of personal property in the home you're willing to sell and at what price. Each item priced separately or at least broken down into rooms/groups of items such as "primary bedroom suite available for $2,000".
Now, if you prefer a little more proof in the pudding or receive particular pleasure in boredom, please read on. My career started as a commercial appraiser and project manager, so I'm certified, licensed, and professionally boring, tedious and thorough. First, let's wrap some definition around Personal Property as opposed to Real Property (or Real Estate). Real Property is immovable. Land, a building, and things bolted to that building are Real Property. Personal Property is everything that doesn't fit that description. While these definitions are legally accurate, they don't provide for a blanket answer to all property related quandaries. Here is a small list of the many grey areas possible within this definition:
Wall-Mounted TV
The TV is bolted to the wall-mount. The wall-mount is bolted to the wall. Not as law but as a generally accepted practice, we tell Sellers to take their TV (Personal Property) but leave the wall-mount (Real Property) as removing the wall-mount will leave damage behind. But then we disclose in the listing exactly that.


Pool
In-ground pool, obviously Real Property. Above-ground pool, obviously Personal Property. Or is it? What if the above-ground pool has decking built up to its edge or all the way around?


Front-Porch Swing
There may be eye-bolts screwed into the ceiling of the porch (Real Property). But the swing itself is hung by hooks and very easily removed without damage to the property (Personal Property).


Bookshelf or Large Headboard
Clearly Personal Property, right? What if the top is bolted into a stud for reinforcement to prevent it from tipping over?
When selling your home, it is critical to put yourself in the Buyer's shoes if you want the transaction to go well and not risk it falling apart at the closing table. So many Sellers fail to do this, and that's asking for trouble. You must be sure to make it clear WHAT you're selling (what's included in the listed price) and it's important to consider HOW your Buyer will pay for it. The answers aren't as simple or obvious as you may think.
Price is WAY More Than Just a Number
As an appraiser, an agent and a team lead, I cannot express how many times a Seller wants to tell me what their house is worth because:
I know what the house down the street sold for
I've been watching the market
I've researched it on Realtor.com
I check Zillow every day
Pause 5 to 10 seconds for a long eye-roll. If that's all it took, then why do experienced agents/teams consistently sell homes in a shorter amount of time than the THOUSANDS of struggling agents in our market? Or why did less than 10% of for-sale-by-owner homes (FSBO) listed sell last year? The answer is two fold. (1) Realtors have access to much more data than non-Realtors. (2) A good Realtor knows to put that data to use for their clients.
What's Your Home Worth? Not as Defined as You May Think
When you think of the value of your home you likely have one number or a tight range in mind. There is NEVER one number that represents your home. Read that again, NEVER one number that represents your home. The value of a home is determined where Buyer and Seller motivations meet. There is a Listing Price which is different than the Selling Price by definition. The Seller can only influence two of the three defining characteristics that comprise the Listing Price and Selling Price.

(1) How much market data do you have at your disposal? Hopefully at least 5 to 10 sales and a few listings, considered minimal data, and knowledge of how to parse that data.
(2) How strong are the Seller Motivations? Do you HAVE to sell because you can't make any mortgage payment, a forced job move, or family situation? Or do you have time to wait on the market?
(3) The Buyer's Motivations (move closer to family, job move, divorce) including budget and timeline will likely never be fully known by the Seller; and the Buyer's Motivations influence the final Selling Price just as much as the Seller's Motivations.

Generally the Seller wants to sell for as much as possible as quickly as possible, but that is no reason to short-circuit the market data research (provided by your Realtor) because those two Seller goals are EXACTLY opposing the goals of most Buyers. The Buyer wants to take their time to find the best deal, at the lowest possible price, knowing they can probably negotiate even lower on properties which have sat on the market longer.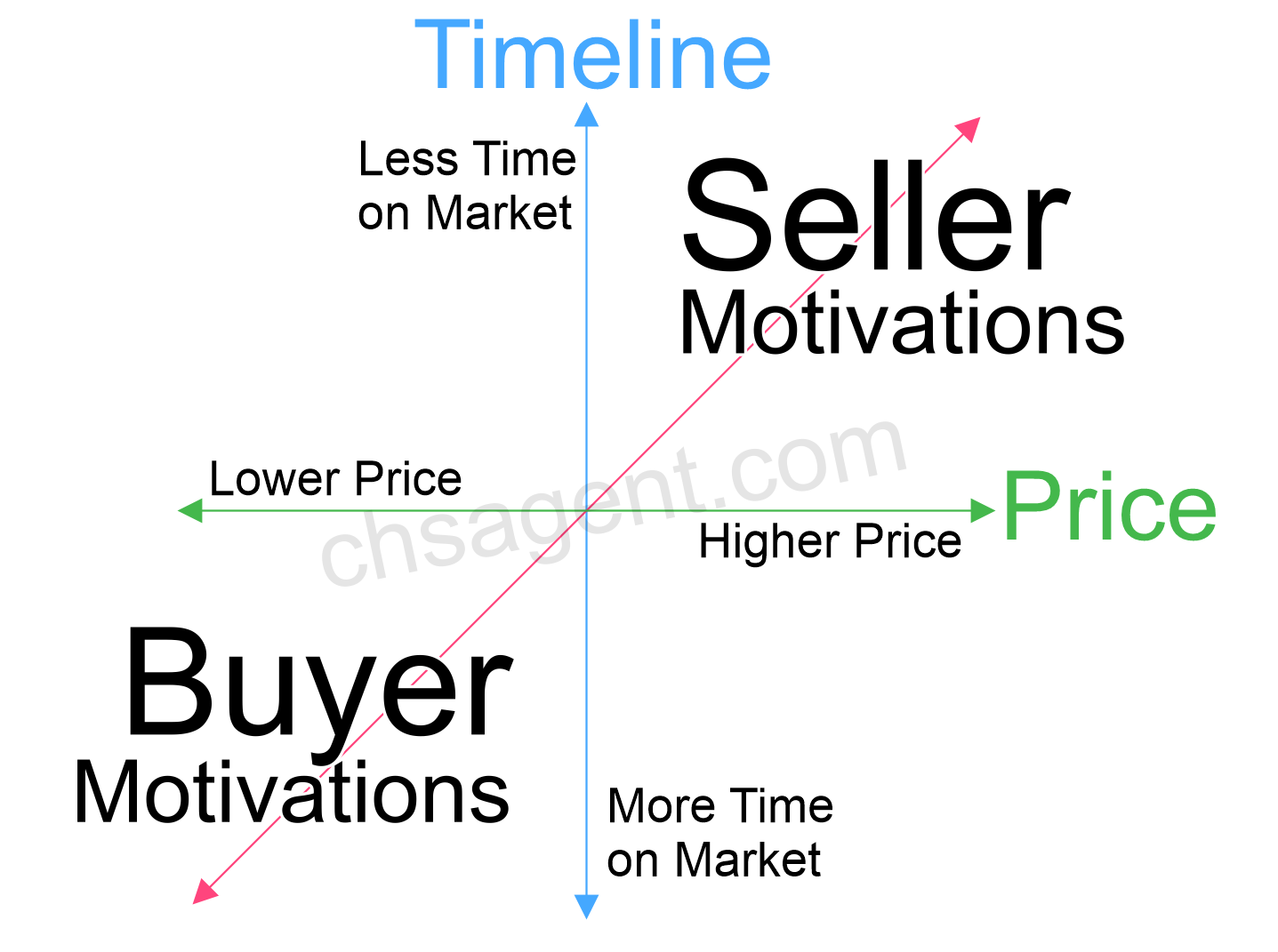 I'm sure you're already thinking,
WHAT DOES ALL THIS HAVE TO DO WITH SELLING MY HOME FURNISHED?!?
Relax, we're getting there.
What are you selling?
You already know a Buyer wants to pay the LOWEST price possible, which is generally the MOST they can afford to mortgage. Including a few Personal Property items such as a couch, a TV or bookshelf to convey with your home… consider it a $0 gift. A 'thank you for buying my home' present. If you list that "items X, Y, and Z convey with the home," then the conversation's over. There, you said it, there's no more negotiating. They aren't worth 1/10
th
of a percent of the ACTUAL PRICE OF THE HOME YOU'RE NEGOTIATING. There's no better definition of
petty
than pulling the used couch back out of a $300,000 negotiation. That's like the car salesman negotiating the dip-stick out of a car sale. So if you're including them, include them. If you're not, either remove them from the house prior to listing or clearly state in the listing what items do not convey. But what if it's more than just a few relatively small value items? Say a $4,000 bedroom suite or even an entirely furnished home. Trying to sell a home fully or largely furnished (unless it's an income producing rental property) will DRASTICALLY cut your ability to sell and places a filter on buyer motivations. Allow me to explain those two factors in detail.
Cut Your Ability to Sell
Let's say you want to sell your home for $300,000. The market data from multiple home sales (remember, 5 to 10 sales, not just the one house that sold down the street) backs that $300,000 number. Let's also assume you have some time to wait for a Buyer so timeline isn't a strong motivation for you. Per MLS data, homes in your area are closing at 2.0% below asking price; a very realistic number. That suggests a list price of $306,000. And let's assume the data shows you should expect 30 days on market. But you decide you want to leave your furniture behind which you feel is worth $12,000 because you paid roughly $20,000 for it all new. You have your real estate agent list your home as furnished for $318,000. Two things just happened with that decision. One, your home just started competing with homes at a higher price-point. This means at the furnished price your home is being compared to homes that are larger, newer, or have substantially improved Real Property features not included in your home such as a pool, screened porch, or water view for example. Two, your projected days on market and probability of receiving a contract on your home just exponentially went a direction you don't want them to go. Numbers tell the whole story. The example charts below are built directly off years of data across thousands of sales. The chart to the left displays the probability of achieving a sale at increasing price points. The probability drops drastically as price increases beyond what the market data suggests. The chart to the right shows how expected days on market increases exponentially as listing price is increased beyond what market data suggests.
So I lied. This isn't an
example
chart. This chart was built using
real
numbers off a
real
client's home, referencing
real
MLS historical information. This is a home that did net the Seller about $300,000. As the data suggested listing around $306,000 should lead to an expected 30 days on market. An increase in price to $318,000 reduces the probability of a sale to less than 16% and more than double the expected amount of time to sell.
But it Includes the Furniture, so the Price is Justified, Right? Filters on Buyer's Motivation
This is where we begin to look into
Buyer's Motivations
. Today, EVERY home search begins online. Of two identically sized homes, approximately the same age, in the same area or neighborhood, both with equal curb appeal, the home with the lower price will get dramatically more views than the higher priced home. Even if the first words in the listing description states, "free gold-filled treasure chest conveys," those words will NEVER be seen by most Buyers if it's priced thousands more than its neighbor. At first glance the Buyer's apples-to-apples opinion is that one house is simply better priced than the other. Buyers begin, or should begin, their home search by getting lender pre-approved so they understand their budgetary constraints (
charlestonagent.com/finance/
). Then Buyers promptly begin searching homes online right up to their max budget. At every incrementally higher price-point there exists fewer Buyers capable of paying that higher price. Every dollar higher in price is another Buyer who's been priced out of looking at that home. Higher priced properties tend to sit on the market longer than lower priced properties. This tendency is true at all levels of real estate. The 3-bedroom $150,000 condo takes longer to sell than the 2-bedroom $120,000 condo in the same building. The $3M beachfront home takes over a year to sell, where the $750,000 home one row back from the beach sells within months. To rub salt on the wound, Buyers expect to negotiate more aggressively on properties which have sat on the market for longer. Being priced higher leads to fewer Buyers looking at a home, leading to longer days on market, leading to Buyers wanting to negotiate further down in price because the property has sat on the market. A negative tailspin in achieving the Seller's goals.
How the Buyer Pays SHOULD Matter to the Seller
The final challenge is in how the Buyer pays for the property. Say we disregard all the factors discussed above and a Buyer came along for the house we've used in the example and was pre-approved for $315,000. The Buyer and Seller negotiate, coming to a contract agreement of $312,000 for the furnished home. This achieves the Seller's goal of netting $300,000 for their home and $12,000 for their furniture. A mortgage being written on that home is contingent upon it
appraising for the "sales price"
. Since the furniture was wrapped into the listing, the
sales price
is $312,000. The furniture cannot be removed without throwing away the contract and renegotiating a new deal. Ask any banker, lender, or real estate agent. Most residential appraisals come back within a few hundred dollars of the
sales price
. But an appraiser will not include any value for the Personal Property items in the appraisal. Read that again,
Personal Property does not count in a residential appraisal
. According to the market data this home should come back appraised at around $300,000 plus or minus a couple thousand dollars. The Buyer now has to bring $12,000 additional cash (real money, not lender/mortgage money) to closing to cover the difference created by the furniture. When the Buyer realizes they have to buy the furniture with cash out of their own pocket, in addition to the down-payment and closing costs they're taking out of their savings account, that Buyer will reconsider how much they actually want ALL the included furnishings that
did
match the Seller's taste and
might
match the Buyers taste. But since the furniture was wrapped into the price of the home, this means scrapping the contract and opening back up negotiations on the home right before closing. Many deals fail when negotiations are opened back up close to closing.
Ok, So Tell Me What to Do!?
What's the solution to this overly detailed explanation of the furnished house problem? (I warned you I was certified, licensed, professionally boring and tedious, didn't I?)
List the house priced according to the market data. Market data doesn't include Personal Property. This keeps your home priced competitively.
Include in the listing description that furnishings within the home are available for sale and will be written up as a separate contract of sale.
Break down the items for sale into a manifest with prices of each item or at least groups of items with clear pricing. Have your agent include the list as an attachment in MLS.
Be prepared to have moved, sell on the secondhand market, consign or donate any furniture that doesn't sell.
With this strategy, the Seller can receive the optimal amount of views of their home for sale, increasing the likelihood of receiving an offer sooner. A good agent will lean heavily on market data to inform their client about the market. Note I said "inform". An agent's job is not to influence or coerce their client. As long as you and your agent have looked at all the data together, your motivations should guide your decision on listing price and expectations. After all, it is your home (and your personal property).
---
Authored by Terry Peterson, Realtor®, a previously Commercial General licensed real estate appraiser (SC LLR #6452), has appraised a wide range of properties from warehouses to office complexes, churches to homes. His experience also includes consulting for real estate litigation and developing property data gathering applications. Real estate market is in constant fluctuation. Past performance of the market is not a guarantee or insinuation of future performance. Approximations and estimations provided are for guidance and planning; not guarantees, promises nor service level agreements. ©2020 Peterson Limited III, LLC not to be duplicated, shared or distributed to any person or company except by Peterson Limited Company III, LLC or link directly to this original post.